Create It, Sell It, Live The Dream
The

Ultimate

Course on How to Make Money Selling Your Art
I never could have gotten started selling without this course. I have now got a website , selling my art and taking commissions!!!! Thanks Nolan
Learn Everything You Ever Wanted to Know About Turning Your Hobby into a Cash Generating Machine
For the first time ever you now have a comprehensive, all-in one course that can help you to create an income you can grow and be proud of. A course created specifically for hobbyists and artists.
Anybody That Creates Artworks by Hand
This Course Has You Covered

Created For Artists by a Fellow Artist

Nolan has been a professional artist for over 15 years already. During that time he has not only learned all the tricks of the trade, but also made all the mistakes in the book. He has created this course specifically to show you what works and what doesn't so that you can sell more of your artworks without making any of the mistakes.
Learn how to Sell Correctly, Avoid the Mistakes and Maximize Your Profits in
Module 1 - Are You Ready
You will start off the course by taking a look at what it takes to be a professional artist. In this module you will see what the typical week of a full time artist looks like.
Module 2 - Pricing Your Artworks
This is always a question artists struggle with. In this module you will learn the 6 most common methods used to calculate the prefect price for your artworks. You will learn which pricing strategies to use, and when, to maximize your profits and stand out from the crowd.
Module 3 - Creating Artworks Quicker
Time is money. In this module you will learn 8 practical strategies and techniques that successful professional artists use to create their artworks quicker, better and more efficiently, without losing their creative spark.
Module 4 - Easy Market Research
If you don't know who your customers are, you are not going to sell many artworks. In this module you will learn an easy way to conduct market research. You will then use this info to generate a plan that will help you to skyrocket the sales of your artworks.
Module 5 - Selling to Friends & Family
This module starts off by showing you what stationery you will need as a selling artist, e.g., business cards, etc.
With everything you need to start selling in place you will learn how to sell from your home studio, sell to friends & family as well as colleagues.
You will also learn the 9 rules used to take on commissioned work without the usual headaches and comebacks.
Module 6 - Selling Through Social Media
Possibly the quickest way to become known as an artist and grow your sales is through Social Media. In this module you will learn which social media websites work for artists, how to promote your handiwork correctly as well as sell to your social media friends.
Module 7 - Selling On Your Own Website
Nowadays if you don't have a website, you are not taken seriously. In this module you will learn how to create your own website, without any coding skills.
You will then see which pages artists need to have on their website and how to sell your artworks directly off your website.
Module 8 - Selling Online
This module teaches you which 3rd party websites, like online gallery websites, are the best to sell your artworks through.
You will learn how to package and ship your artworks to reduce breakages and costs. You will also learn how to avoid the multitude of scammers preying on unsuspecting artists.
Module 9 - Staying Organised
Most artists give up within 3 to 5 years. This module will teach you why and how to prevent you from becoming a statistic. You will learn about the Success Pyramid which is required to grow and build a thriving income.
Learn how to structure your sales processes to ensure future growth. Learn about the 6 different customer types and how to target each correctly.
Module 10 - Selling at Craft Markets
Selling at craft markets is a lot of fun, but you have to do it correctly or you end up going home without any sales. In this module you will learn how to set up your stall for maximum sales, which stalls to avoid and why. You will learn how to accept payments when selling at craft markets as well as the 25 different sales tricks, tactics and techniques you can use to ensure the products at your stall sell like hotcakes.
Module 11 - Arranging Self Exhibitions
Being able to arrange your own exhibitions will allow you to sell a ton of artworks without having to hand over half of your profits to a gallery owner. In this module you will learn exactly how to arrange and plan your own successful exhibitions.
Learn where are the best places to hold them, how to plan your layout, how to promote the exhibition as well as get other people to assist you with the work.
Module 12 - Working with Other Artists
Working with other artists is not only heaps of fun, but can be very lucrative too. In this module you will learn where to find other artists to work with and which artists you do not want to work with.
You will learn what the secretive Elite and General Working Groups are, how you can use each to save money, make more money and work less.
Module 13 - Earning Recurring Income
Many people think that artists can never go on holiday or retire because they need to keep creating new artworks otherwise the money will not come in anymore. This is only true for uninformed artists. Successful artists all earn a recurring income which keeps the money flowing in while they are on holiday, sick, retired and even while they are sleeping.
In this module you will learn techniques which you can use to create up to 7 powerful income streams which keep the money rolling in 24/7/365 whether you are working or not.
Module 14 - Other People Sell For You
As your sales increase you need to be able to delegate some of your workload. In this module you will learn how to successfully delegate much of your selling tasks to other people.
This will allow you to do more of what you enjoy doing most - creating awesome artworks.
Module 15 - Selling Through Galleries
Selling through galleries is considered to be the Holy Grail for most artists. Stories of artists being ripped off by galleries however also abound.
In this module you will learn how to create a portfolio that is designed to impress the socks off any gallery owner. You will learn the correct way to approach and present to galleries in order to maximize your chance of being accepted.
You will also learn what you should ensure is in the gallery agreement before you sign on the dotted line to ensure you are not ripped off.
Module 16 - Secret Ways To Sell
You will end the course by taking your sales to a whole new level by learning 16 super secret sales tricks, tactics and techniques. Tactics so powerful that some can even form a whole new business and create a whole new income stream for you.
Comprehensive pdf Manuals
Each module has a comprehensive,no holds barred downloadable pdf manual explaining exactly how to do everything in an easy to understand step by step fashion. Each module builds on the previous so that after each module you have set up an extra income stream which will earn you more and more money.
Along the way Nolan teaches you all about running a business too. From how to create business cards that don't end up in the dustbin, to the correct way of ensuring your sales can endure well past your lifetime.
Over 500 Pages of Practical Money Making Secrets
Genuine Real Life Examples
Whether you are looking to sell your artworks out of hand, at craft markets, through galleries, etc., Nolan has "been there and done that". He has made all the mistakes and learned all the lessons. Every module is jam packed with heaps of personal lessons he has learned over 15 years of selling.
He explains exactly what to do, when to do it and how to do it. Absolutely nothing is left to the imagination in this course. At each step of the way Nolan points out the potential pitfalls so that you don't make the same mistakes.
Proven, Real World Training from a Professional Artist
Step by Step Demonstrations
Each module has a comprehensive,no holds barred downloadable pdf manual explaining exactly how to do everything in an easy to understand step by step fashion. Each module builds on the previous so that after each module you have set up an extra income stream which will earn you more and more money.
Along the way Nolan teaches you all about running a business too. From how to create business cards that don't end up in the dustbin, to the correct way of ensuring your sales can endure well past your lifetime.
No Stone Left Unturned, No Secrets Held Back
Heaps of Samples & Templates
Not sure what it should look like? No problem.
Nolan shows you what it should look like.
Throughout the course Nolan shows you what his own sales material looks like. You can download the templates and modify them to suit your own artworks and needs.
There are samples and templates for almost everything you will ever need in your business. Here are just a few of the many samples included in the course: Product catalogue layout example, Business card layout samples, Portfolio samples.
Just one of the templates included are a commissioned artwork agreement which you can edit with your own details. There are many more like a mailing list template for collecting your customer's email addresses, etc. You simply add in your own details or print onto a letterhead and off you go.
Everything You Need to Know and More
This is a great course. Very comprehensive and very well presented.  A must for any artists aspiring to gain from their art work.
16 Modules plus Bonuses for only $17

Order Today and Get These Amazing Bonuses:
(Limited Time Special Offer)
Bonus 1 - Done for you Spreadsheets
There is no need to set up your own spreadsheets to do the common tasks like calculating your prices. It has all been done for you.
There are spreadsheets for almost every situation. There are spreadsheets for all the different pricing strategies, keeping track of your inventory of artworks, keeping track of which artwork is at which shop or gallery, etc.
You name it, it has been done for you so you don't have to.
Saving You Months of Set Up Work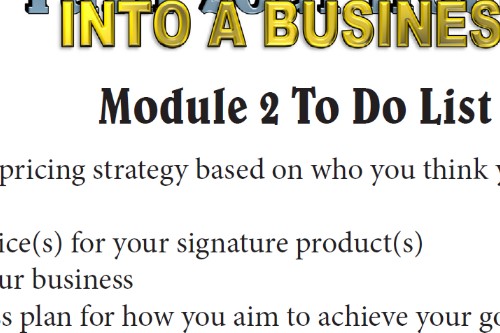 Bonus 2 - Essential To Do Lists
There is nothing worse than not being organised. Especially when it comes to making money.
Throughout the course, to do lists have been added to ensure you stay organised and on task all the way.
No more getting side tracked. The to do lists will ensure you get the job done efficiently and on time.
Ensuring You Remain on the Path to Success
Bonus 3 - Heaps of Checklists
Just imagine you are miles away from home at a craft market only to find that you have forgotten to pack the poles for your gazebo.
Inside the course you will download checklists for every situation. No matter what you are doing, you will simply be able to print out your checklist and off you go.
Selling Your Art Has Never Been This Easy
Bonus 4 - Flowcharts
Flow charts not only keep you on track, they help you to plan and fault find in your business.
Especially as a new seller, you cannot afford to make mistakes as mistakes invariably cost money.
Many flowcharts have been included so that you can ensure you have taken care of all possibilities.
Maximizing Your Profits Just Became a Breeze
Bonus 5 - Mindmaps help you Grow
Planning and growing your sales is essential if you are to be successful.
Throughout the course mind maps have been added to help you build and grow your sales.
There are mind maps for setting goals, doing market research, laying out your website, you name it.
This is the Most Comprehensive Course on How to Make Money Selling Your Art
This is What You Get with the Course: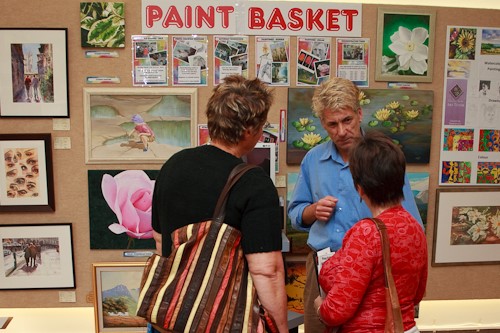 Don't Become Another Starving Artist, Join the Course Today!
16 Modules plus Bonuses for only $17

Don't Forget This Offer is
I know this course is the best available and there is nothing like it. You WILL be selling your artworks after following just a few of the steps in the course. To take any risk away from you, I am happy to give you a full, no questions asked refund if you don't agree that this course is your ticket to selling as many artworks as you can create.
Take a Look at What the Course Students Are Saying:
The pricing information alone is amazing. I'm blown away! In two modules I've learned so much already about how to go about this better. Pricing has been such a stumbling block for me and I know I've been giving things away but had no idea how to approach things. Now I have concrete 'instructions' to follow that are easy to understand. Excellent information.
Thank you, Nolan, for the wealth of information in each of the 16 Modules. I know a lot of effort/thought has gone into the course because the modules have been jam packed with information. I grow for our the local Farmer's market therefore, many of your organizational tips/suggestions definitely resonate with me.
Nolan, What a great and informative course. I learned so much and you gave so many lessons that it jump started this whole process.
I have to admit how lucky I am to have learned so much from this course. I am confident that with the way you compiled all the info in this course that it is possible for anyone who wants to start up a business can use this information and be a success. Kudos for doing such a great job! I thought you were very thorough!
I met with an art consultant earlier this week. I'm excited she wants to represent me and keeping my fingers crossed for some successes stories!
Save your pennies, ask for cash for birthday and Christmas gifts.... the course is outstanding.  16 modules packed with information on every aspect of the business of art.  It covers everything, from business cards, advertisements, various avenues to sell your art, even setting up your website.  Pitfalls and errors are outlined.  Templates provided, you name it... it is included.
16 Modules plus Bonuses for only $17

ClickBank is the retailer of products on this site. CLICKBANK® is a registered trademark of Click Sales Inc., a Delaware corporation located at 1444 S. Entertainment Ave., Suite 410 Boise, ID 83709, USA and used by permission. ClickBank's role as retailer does not constitute an endorsement, approval or review of these products or any claim, statement or opinion used in promotion of these products.